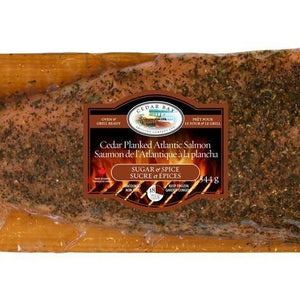 PRODUCT DESCRIPTION

SEASONED (SUGAR AND SPICES) SALMON FILLET CENTERED ON A PRE-SOAKED CEDAR PLANK.

FLAVOUR/AROMA: SUGAR AND SPICE FLAVOUR WITH SLIGHT CEDAR AROMA

TEXTURE: FLAKEY WHEN COOKED

CUT TYPE

FULL FILLET

INGREDIENTS

Ingredients: Atlantic salmon, Marinade (brown sugar, water, cracked black pepper, paprika, dried basil, dried tarragon, sea salt, dehydrated garlic, dried lemon rind).

 

Ingrédients : Saumon de l'Atlantique, Marinade (cassonade, eau, poivre noir concassé, paprika, basilic séché, estragon séché, sel de mer, ail déshydratés, zeste peau de citron).

ALLERGENS

Contains: Fish. May contain: Soy, Milk, Wheat, Mustard, Egg, Sulphites, Shrimp, Scallops.

Contient : Poisson. Peut contenir : Soya, Lait, Blé, Oeuf, Sulfites, Crevettes, Pétoncles.

KOSHER

NO

COOKING INSTRUCTIONS

 

**COOKING TIMES MAY VARY WITH OVEN/GRILL

TYPE**

DEFROST OVERNIGHT IN REFRIGERATOR (38°F/4°C), OR SUBMERGE ENTIRE VACUUM PACKAGE IN COLD WATER UNTIL THAWED (30-40 MINUTES OR UNTIL PRODUCT IS COMPLETELY DEFROSTED). REMOVE FROM PACKAGE BY CUTTING WITH SCISSORS AROUND THE PROTECTIVE PLASTIC WRAP. COOK PROMPTLY AFTER THAWING.

 

BBQ: PREHEAT TO MED-HIGH (425°F/220°C), PLACE THE SALMON AND PLANK DIRECTLY ON GRILL AND CLOSE COVER FOR 18-20 MINUTES OR UNTIL INTERNAL TEMPERATURE IS 158°F/70°C. HAVE A SPRAY BOTTLE READY FOR FLARE-UPS.

 

CONVENTIONAL OVEN: PREHEAT OVEN TO 425°F/220°C. PLACE SALMON AND PLANK ON A BAKING SHEET, THEN PLACE BAKING SHEET ON THE MIDDLE RACK OF THE OVEN. BAKE FOR 18-20 MINUTES OR UNTIL INTERNAL TEMPERATURE IS 158°F/70°C.

 

DO NOT OVERCOOK. SALMON IS COOKED WHEN FLESH BECOMES FLAKEY. SALMON IS PERFECTLY COOKED WHEN IT IS STILL SLIGHTLY PINK IN THE CENTRE OF THE FILLET. REMOVE IMMEDIATELY FROM COOKING SOURCE. PRODUCT WILL CONTINUE TO COOK ONCE REMOVED FROM GRILL/OVEN. SALMON

WILL EASILY COME OFF THE PLANK WHEN SERVING.