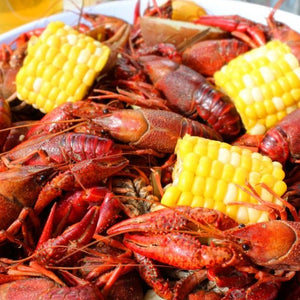 Approximately 10 crawfish per pack
Crawfish are freshwater crustaceans resembling small lobsters. They are also known as crayfish, craydids, crawdaddies, crawdads, freshwater lobsters, mountain lobsters, and rock lobsters. Crawfish meat tastes similar to a combination of lobster, crab, and shrimp, with less salinity and more sweetness. Traditionally prepared crawfish often includes Cajun seasoning, which infuses the meat with notes of paprika, cayenne, garlic, oregano, and other ingredients. Great in seafood boils.

Most crawfish are boiled or steamed, then eaten on their own, or added to a dish.
Cooking instructions 
Season 8 cups of water with spicy cajun seasoning and bring to a boil. Crawfish is previously cooked. Add Crawfish to boiling water and place a lid on the pot. Boil for 2-3 minutes,  Drain, and eat.

Ingredients
Crawfish, Salt, Red Pepper
Contains: Shellfish